Spec Ops II: Green Berets
Talk

0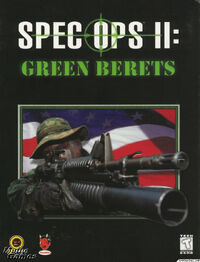 Spec Ops II: Green Berets is a sequel to Spec Ops: Rangers Lead the Way and puts you in the role of a US Army Green Berets. It was developed by Zombie Studios and was published by Ripcord Games. The game launched exclusively on the Microsoft Windows platform in 1999. Spec Ops 2 offers you 5 campaigns (Antarctica, Korea, Pakistan, Thailand, Germany) with a total of 26 missions which you can complete in any order you choose. The main task is to control your team through these levels and to reach the mission's goal. The 19 weapons available and various explosives will help you to succeed.
The game also supports LAN and Internet multiplay for up to 16 players.
An expansion pack, Spec Ops II: Operation Bravo, was released online the following year. The expansion includes five new campaigns (Alpine, Desert, Jungle, Mountains, and Urban) with 25 new missions. As well as new multiplayer game modes including Capture the Flag and Last Man Standing, improved multiplayer coding, more strategically minded Buddies, improved AI/Path Finding and new textures.
In that same year A bundle called Spec Ops: Platinum Collection containing Spec Ops: Rangers Lead the Way, Spec Ops: Ranger Team Bravo, Spec Ops II: Green Berets, Spec Ops II: Operation Bravo and a strategy guide was released.