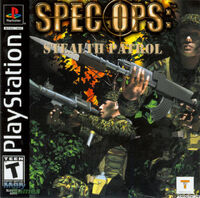 Spec Ops: Stealth Patrol is the first console adaptation of the long-running PC military Spec Ops series. Players command two rangers on a variety of missions. Only two rangers can be controlled. This can be done by two human players working together. When there is only one player, the computer AI takes over the second ranger, but the player can switch between them at any time. Also different in this console adaptation is the change of gameplay perspective from first-person to third-person.
Ad blocker interference detected!
Wikia is a free-to-use site that makes money from advertising. We have a modified experience for viewers using ad blockers

Wikia is not accessible if you've made further modifications. Remove the custom ad blocker rule(s) and the page will load as expected.