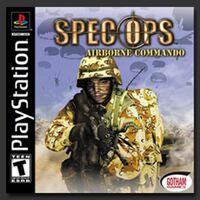 Spec Ops: Airborne Commando is an isometric action game where players assume the role as a lone Ranger through 16 levels of shooting and using high-tech equipment. Levels span from hostage rescuing to mayhem and destruction, and from urban environments to jungles.
- Look
- Jump
- Open Doors, Lift Barrels
- Attack
L1 - Hold to run.
L2 - Hold to crawl.
R1 - Lock on to the closest target (may not always be an enemy).
R2 - Cycle through weapons.
Select - Bring up your inventory.
Start - Pause the game.
Ad blocker interference detected!
Wikia is a free-to-use site that makes money from advertising. We have a modified experience for viewers using ad blockers

Wikia is not accessible if you've made further modifications. Remove the custom ad blocker rule(s) and the page will load as expected.