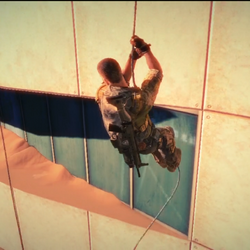 Rappel Ropes are a type of environmental equipment that appears in Spec Ops: The Line.
They are ropes that can be slide down to traverse large vertical drops safely in buildings.
In the campaign, they are not limited solely to the Delta force soldiers, but can be used by enemies as well.
Shooting 10 enemies off of ziplines or rappel ropes will reward the player with the Airspace Control achievement.
Ad blocker interference detected!
Wikia is a free-to-use site that makes money from advertising. We have a modified experience for viewers using ad blockers

Wikia is not accessible if you've made further modifications. Remove the custom ad blocker rule(s) and the page will load as expected.